The United Auto Workers (UAW) strike against the Big Three automakers may make non-union Tesla the biggest winner by allowing it to expand its cost advantage over its rivals in Detroit.
EV-maker Tesla has long enjoyed a cost advantage over the Big Three – Ford, General Motors, Stellantis – in part because it lacks the overhead that comes from the wages and benefits paid to unionized workers.
A note from analysts at Wedbush Securities published on Friday, when the strike began, highlighted the predicament facing Ford CEO Jim Farley and GM CEO Mary Barra in particular. 
"Our worry is this could be a long and nasty strike which would be an absolute debacle for the Detroit Three. Take this UAW deal on the table and the business models in Detroit are not sustainable/profitable… a very frustrating quagmire situation as Barra and Farley have done a good job transforming the stalwarts" to compete in the EV space, the analysts wrote.
UAW VOWS TO STRIKE AT MORE US AUTO PLANTS IF PROGRESS NOT MADE BY FRIDAY
They added, "On the other hand non-union Tesla does not face similar issues which speaks to the complexity both GM and Ford face going up against the EV leader Tesla, while trying to satisfy rising union demands. If a strike is lengthy (4 weeks+) then ultimately production and the EV roadmap could be pushed out into 2024 and delays would be on the horizon at this crucial period for GM, Ford, and Stellantis."
The union's strike, which entered its sixth day on Wednesday, is focused on demands for higher pay and benefits. 
The UAW is seeking a 36% raise for rank-and-file members over four years, down from an initial demand of 46% wage increase over that period. It is also pushing for cost-of-living pay adjustments, an end to forced overtime, and increases in pension benefits for current retirees and the restoration of pensions for new hires, among other benefits.
UAW STRIKE THREATENS TO DRIVE UP CAR PRICES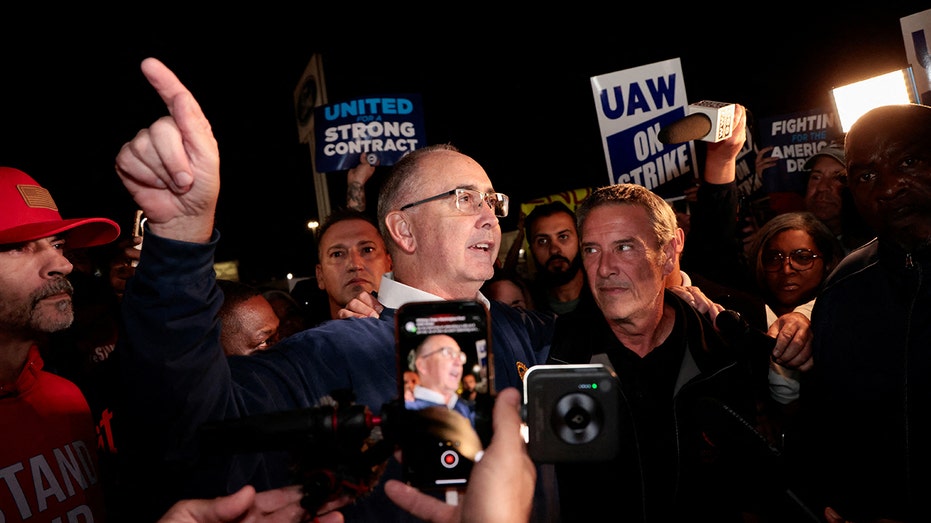 Each of those demands would increase expenses for the Big Three, cutting into profits and operating margins and hurting their appeal to investors on Wall Street.
Full-time assembly plant workers at Ford and GM earn $32.32 an hour, while part-timers currently make about $17 an hour. Full-time employees at Stellantis earn $31.77 an hour, and part-time workers earn close to $16 an hour.
By comparison, starting pay for manufacturing roles at Tesla's factories in California, Nevada and Texas ranges from $20 to $32 an hour while more experienced roles range from $28 to $67 hourly according to estimates from Glassdoor. Tesla also offers its employees stock options, which have proven quite lucrative for some of its workers. 
UAW REJECTS STELLANTIS' 21% PAY HIKE OFFER: 'WE'VE ASKED FOR 40%'
Ticker
Security
Last
Change
Change %
TSLA
TESLA INC.
266.88
+0.38
+0.14%
F
FORD MOTOR CO.
12.57
+0.02
+0.16%
GM
GENERAL MOTORS CO.
33.90
-0.07
-0.19%
STLA
STELLANTIS NV
19.94
+0.60
+3.13%
Tesla CEO Elon Musk took to X, the social media platform formerly known as Twitter, last Thursday as the UAW strike against the Big Three was looming to tout the work environment and income potential available to Tesla workers through its stock option program.
"Tesla and SpaceX factories have a great vibe. We encourage playing music and having some fun. Very important for people to look forward to coming to work! We pay more than the UAW btw, but performance expectations are also higher. Quite a few of our factory techs who work on the line have become millionaires over the years from company stock grants," Musk wrote.
FORMER CHRYSLER CEO SAYS UAW STRIKE HAS 'BROAD AND DEEP TENTACLES IN THE ECONOMY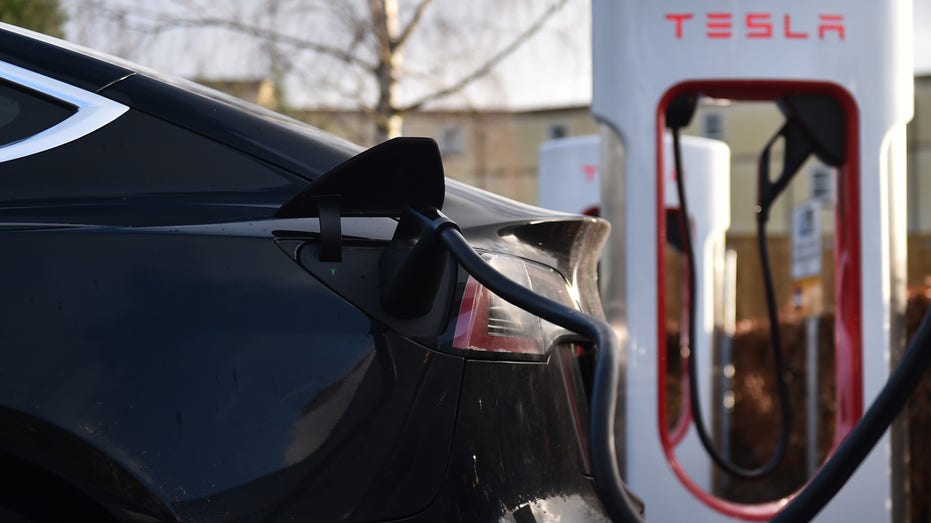 The UAW attempted to unionize Tesla's workforce in 2017 and 2018 amid a period of labor unrest at the company's factory in California. 
That effort ultimately failed – although it set off a legal battle that resulted in the National Labor Relations Board ruling that Musk violated labor law in part through statements about hourly workers losing stock options if they unionized that the labor regulator deemed threatening. Tesla has appealed that ruling, which is currently under review by the Fifth Circuit Court of Appeals, and has disputed any wrongdoing in the case.
Musk has seemingly brushed off the potential threat of a renewed union organizing effort despite the legal battle. In 2022, he said in a post on X that he would "invite UAW to hold a union vote at their convenience. Tesla will do nothing to stop them." 
GET FOX BUSINESS ON THE GO BY CLICKING HERE
Meanwhile, the Big Three face what could become a protracted negotiation with the UAW which could yield a compromise that raises the automakers' expenses.
Ford CEO Jim Farley said Thursday during an interview with CNBC that the UAW's proposal could drive the company into bankruptcy. He said that if the union's proposed contract had been in place since 2019 the company would have lost about $15 billion "and gone bankrupt by now."
"You want us to choose bankruptcy over supporting our workers," Farley said.
FOX Business' Megan Henney contributed to this report.