The price of Shiba Inu (SHIB) has remained basically flat in the past 24 hours, rising by a modest 0.3% to $0.00000683.
This contrasts with a crypto market that has dipped very slightly, although SHIB is down by 5% in a week and by 6% in a month, with the meme token also having fallen by 15.5% since the beginning of the year.
This contrasts poorly with other major tokens such as BTC, ETH, XRP and SOL, and with SHIB continuing to slide in recent weeks, it would appear that the token is in the middle of a long-term decline. 
However, with layer-two network Shibarium attracting new users, and with Shiba Inu as a whole still working to be more than a meme token, SHIB could see a recovery in the not-too distant future.
Shiba Inu Price Prediction as SHIB Continues to Decrease in Value – Can 'Buying the Dip' Strategy Work?
SHIB's chart does not make for particularly inspiring reading, with its relative strength index (purple) having been at depressed levels since the middle of August.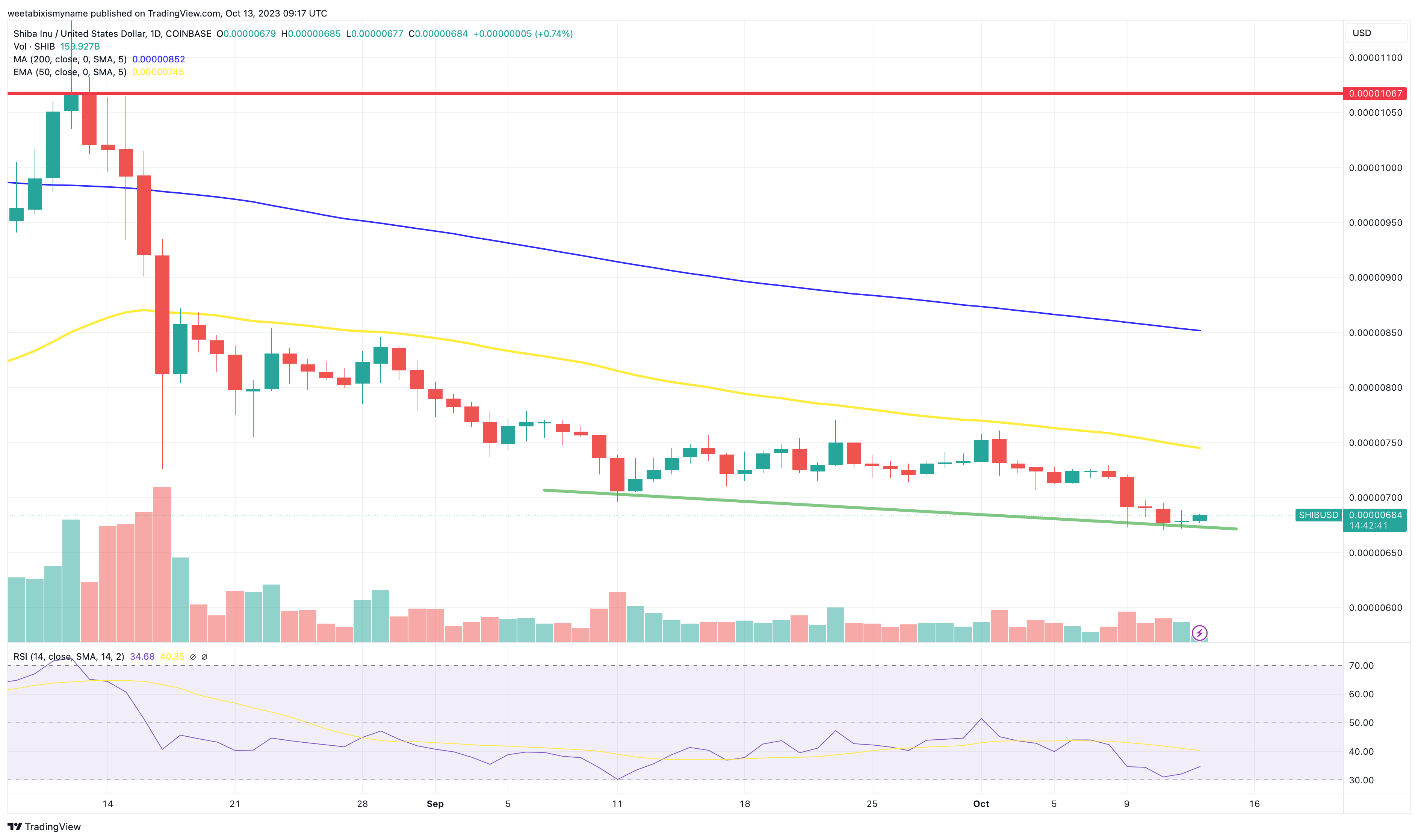 Assuming that SHIB is a fundamentally valuable asset, this means that the token has been well and truly oversold, as also indicated by its 30-day exponential moving average (yellow).
This average continues to fall further below SHIB's 200-day average (blue), again signalling that all of the pressure is towards selling, and that SHIB still hasn't found a lower level that will make it attractive to buyers again in the current climate.
Indeed, SHIB's support level (green) is still sliding downwards, and even though the coin has risen a little today, it wouldn't be surprising if the weekend sees it fall through yet another support.
This would imply further losses, and while the technicals increasingly point towards a recovery, SHIB is arguably the kind of token that really needs market-wide bullishness and exuberance to rise.
As such, it can be expected to drop to $0.0000060 or lower in the next week or so, save a market-wide recovery.
Having said that, the longer term picture looks much better for SHIB, which is likely to benefit from the ongoing growth of Shibarium, Shiba Inu's very own layer-two network.
Since its launch in August, Shibarium has been attracting more users, with a total of over one million wallet address and more than three million transactions processed to date.
The layer-two network will help attract more developers and dapps to Shiba Inu, while the more distant launch of SHIB: The Metaverse is likely to be another big boost to SHIB in the long-term.
For this reason, a longer term target for SHIB is somewhere in the $0.00001, a price it could retain in the first few months of next year.
Alternative Meme Tokens for High Returns
Because SHIB may not do much for a while yet, many traders may prefer to look to other, newer meme tokens, with several new coins currently holding their presales.
One of the most interesting right now is Meme Kombat (MK), an Ethereum-based platform that stages AI-generated meme battles and lets users bet on their outcomes.
Meme Kombat's presale has already raised over $475,000 in only a few weeks, a sign that investors are liking what they see so far.
Within the Meme Kombat platform, bets will be waged using the native MK token, with users able to bet against each other or against the platform itself.
Rewards will also be paid out in MK, with the token also open to staking, meaning that holders could potentially earn a lot in the cryptocurrency.
MK is an ERC-20 coin and will have a hard cap of120 million tokens, with 50% of this allocated to its presale, and with another 30% reserved for betting and staking rewards,
And when combined with its use of playful memes, Meme Kombat's tokenomics and battle system is likely to prove a winner with investors, who can join the presale by visiting Meme Kombat's official website.
MK will be available at a price of $0.1667 for the sale's entire duration, although this is a price that could quickly rise once the coin lists on exchanges later in the year.
Disclaimer: Crypto is a high-risk asset class. This article is provided for informational purposes and does not constitute investment advice. You could lose all of your capital.