The current live price of Shiba Inu stands at $0.000008, with a remarkable 24-hour trading volume of $26 million. 
Surging by nearly 4.50% in the last 24 hours, Shiba Inu has emerged as the best-performing coin in the market. 
As the cryptocurrency gains momentum, investors are keen to understand whether influential whales are entering the market, potentially fueling the ongoing rally. 
This Shiba Inu delves into the recent developments surrounding SHIB and explores the impact of whale activity on its price trajectory.
Shiba Inu Whales Make Significant Increase in Large Transactions, Reports Analytics Service
Over the past 24 hours, there has been a noteworthy surge of 197% in significant transactions conducted by Shiba Inu whales.
These transactions, which amount to over $100,000 each, have been meticulously monitored by IntoTheBlock, an on-chain analytics service.
According to their blockchain data, the previous day saw a substantial total of $12.54 million in such large transactions, marking a remarkable 197% increase. 
The information gathered from these sizeable transactions offers valuable insights into these influential whales' buying or selling behavior. 
Over the past week, there has been a remarkable 326% rise in large-holder net flows, signifying notable changes in the positions of whales and investors. 
This surge in net flows might indicate accumulations from significant holders or whales. 
The heightened activity of Shiba Inu whales in executing large transactions could signify a bullish sentiment and exert upward pressure on the cryptocurrency's price. 
Nonetheless, it is essential to acknowledge that other factors can also play a role in influencing the price.
Shiba Inu Price Prediction 
Taking a technical perspective on the Shiba Inu (SHIB) market, it displays bullish signs after successfully breaking above the triple-top resistance level, which extends to approximately $0.00000802. 
This same level also supports the Shiba Inu price and is further reinforced by the 50-day exponential moving average visible in the four-hour timeframe.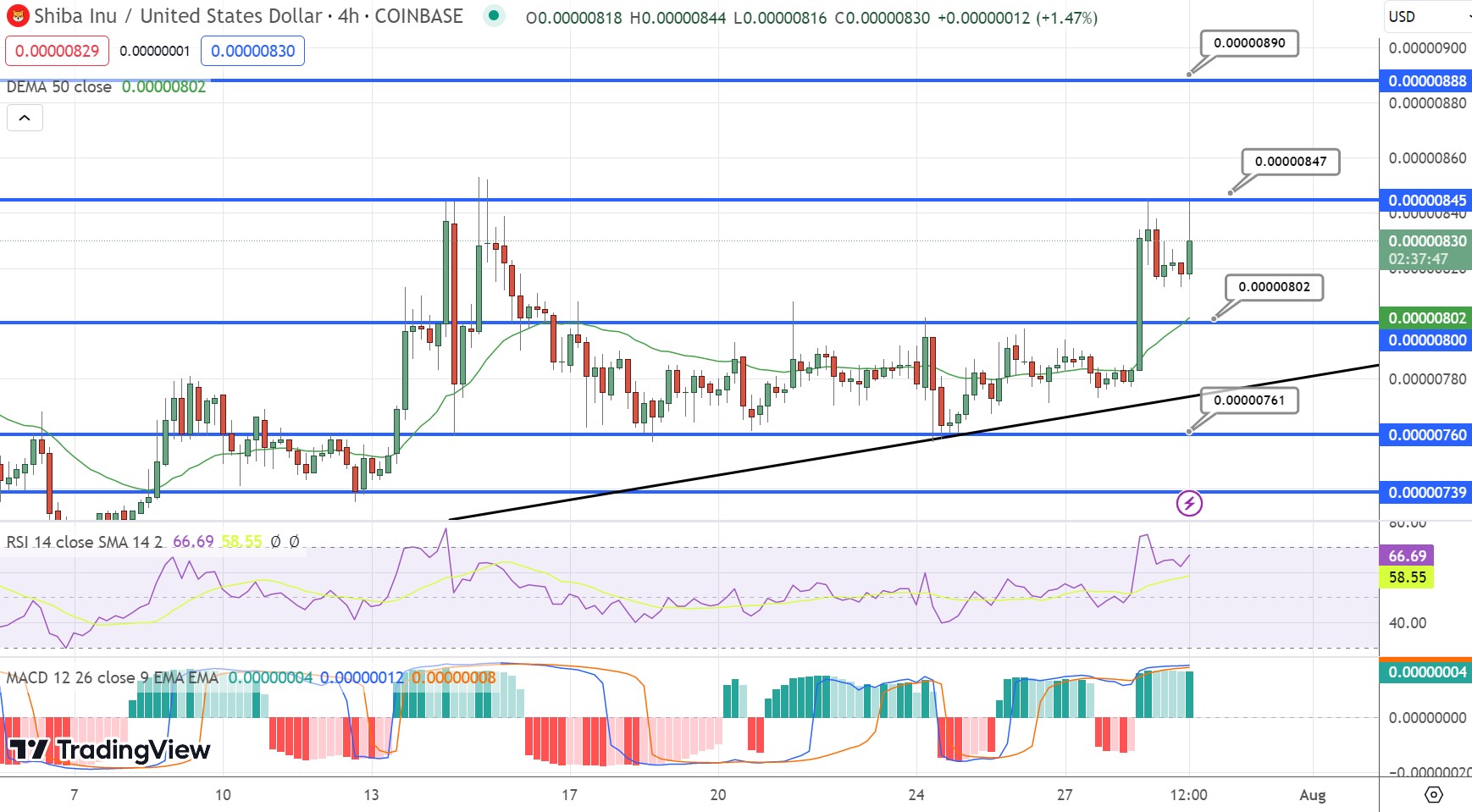 Furthermore, if Shiba Inu surpasses the resistance level at approximately $0.00000845, which is also a triple top resistance, the next resistance area is expected to be around $0.00000890.
On the contrary, if the price experiences a bearish break below the level of $0.00000802, the next support level will likely be around $0.00000779 or $0.000007644.
Promising Altcoins to Watch Closely
As you observe the crypto market, be sure to monitor the performance and growth trajectory of emerging altcoins that show promise and potential. Stay vigilant and informed to discover their intriguing possibilities.
$EVILPEPE in Highlights
$EVILPEPE, a community-driven meme token on the Ethereum blockchain, seamlessly combines the excitement of meme culture with the appeal of financial speculation. Its ultimate objective is to establish an audacious and unapologetic community by tapping into the universal experience of FOMO.
As an innovative and distinctive token, $EVILPEPE has already sold out 1.6 million, showcasing its remarkable growth potential. 
Being the audacious counterpart of 2023's best-performing meme coin, Pepe Coin, $EVILPEPE is well-positioned to build upon its predecessor's success with its unique approach.
Join the $EVILPEPE community now to embrace the next big thing in meme culture and financial speculation. 
Don't miss the opportunity to be bold and unapologetic alongside like-minded individuals.
Disclaimer: Crypto is a high-risk asset class. This article is provided for informational purposes and does not constitute investment advice. You could lose all of your capital.