The PEPE price has surged by 10% in the past 24 hours, pushed to $0.000000802775 as the cryptocurrency market as a whole rises by 2% in the same timeframe.
Thanks to today's lift, PEPE is now up by 30% in a week and by 20% in the past fortnight, although the meme token remains down by 9% in the last 30 days and by 81% since reaching an all-time high of $0.00000431 in early May.
Yet its outperformance of the market today shows that previous heavy losses can often turn more easily into bigger gains, with PEPE's overselling in recent months potentially laying the foundations for further rallies to come.
Pepe Classic Price Prediction as Top 2023 Meme Coin Pumps 10%. Return of the Frog?
There's little doubt that PEPE has begun what looks like a breakout rally, one which had been overdue for quite some time.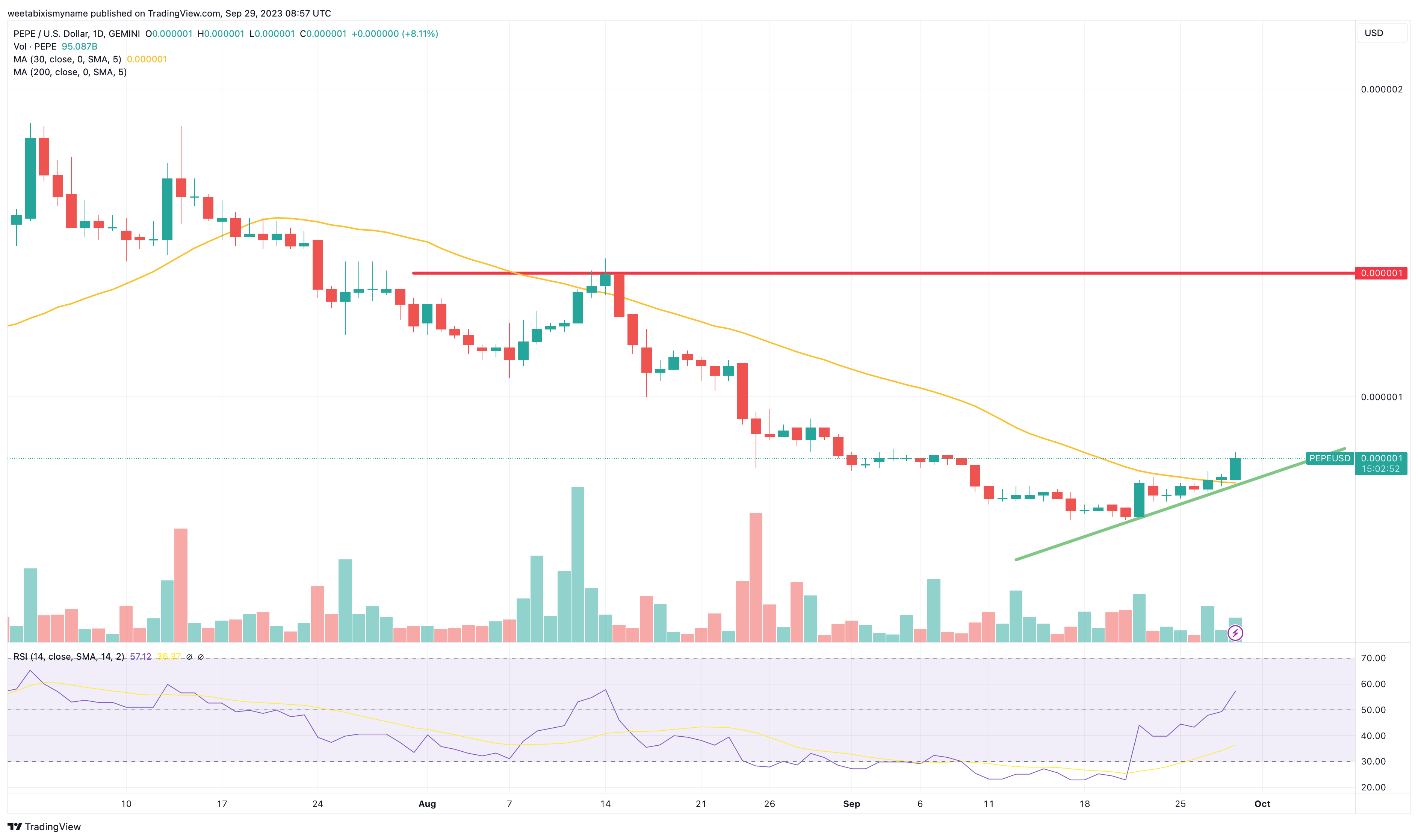 Perhaps most tellingly, the meme token's price has jumped over its 30-day moving average (yellow), a sign that it could be consolidating to a new, higher level.
Likewise, the coin's relative strength index (purple) has jumped towards 60, after spending more than a month near or below 30, which is indicative of heavy overselling.
In other words, it seems that buyers are taking the opportunity to acquire PEPE on the cheap while they still can, with data indicating that whales have indeed begun accumulating the meme token again.
Yet PEPE's status as a 'pure' meme coin should make potential buyers wary that it could come down hard again after its current rally has played out, with whales obviously accumulating the token early only so that they can dump their bags on retail investors later down the line.
As such, traders will need to time their entries and exits carefully, with today potentially being the latest they could buy some PEPE and realistically expect a market-beating profit.
Having said that, PEPE has fallen hard in recent weeks, with its sustained losses arguably implying that it's on course to post some sustained gains.
This could mean that its current rally may last another few days before becoming oversubscribed, with the coin lacking the underlying fundamentals and utility to sustain increases beyond periodical cycles.
Based on this reasoning, PEPE could be expected to reach $0.0000010 in the next few weeks, with the meme token potentially capable of reaching $0.000002 by the end of the year.
New Altcoins With Strong Fundamentals
The fact remains that investing in PEPE is riskier than investing in many more established cryptocurrencies, with more conservative traders recommended to consider new altcoins that are underpinned by safer fundamentals.
One new altcoin that fits this bill to a tee is Bitcoin Minetrix (BTCMTX), an Ethereum-based tokenized cloud mining platform that aims to democratize access to Bitcoin mining.
Bitcoin Minetrix has already raised over $190,000 in the presale for its BTCMTX token, which began less than a week ago.
This quick acceleration hints at how investors have already been impressed by Bitcoin Minetrix's overall concept, which will see users able to stake BTCMTX tokens in order to participate in Bitcoin (BTC) mining.
It works by enabling users to stake their tokens to earn mining credits, which can then be spent in order to pay for Bitcoin hashpower.
And by staking enough BTCMTX, users will be able to earn actual mined BTC as a reward, something which will open up Bitcoin mining to demographics that had previously been excluded.
This exciting idea accounts for why the Bitcoin Minetrix presale is raising money so quickly, with the sale being allocated 1.4 billion of BTCMTX's overall supply of 4 billion.
Investors can get involved in the sale by going to the official Bitcoin Minetrix website, with 1 BTCMTX currently costing $0.011.
This price will rise to $0.01190000 by the sale's tenth and final phase, with the token then listing on exchanges soon after.
Disclaimer: Crypto is a high-risk asset class. This article is provided for informational purposes and does not constitute investment advice. You could lose all of your capital.