Sales of Ford vehicles in the U.S. rose 5.9% in July from a year ago on rising demand for its hybrids and pickup trucks, the automaker announced Wednesday.
The company said new vehicle sales in the U.S. totaled 173,639 in July compared with 163,942 a year ago.
FORD ANNOUNCES F-150 PRODUCTION RESTART
The best-selling models for the month included the Bronco, Edge, Bronco Sport, F-Series, Ranger, Maverick, E-Series and Transit. Sales of Ford's Eco Sport, Explorer, Expedition and Mustang Mach-E were lower.
VOLKSWAGEN GROWING MARKET SHARE IN CHINA THROUGH PARTNERSHIPS WITH XPENG, SAIC
Despite Ford's decision in mid-July to lower the price of its electric F-150 Lightning truck, sales slipped 28.6% in the month from a year ago to just 1,552 vehicles.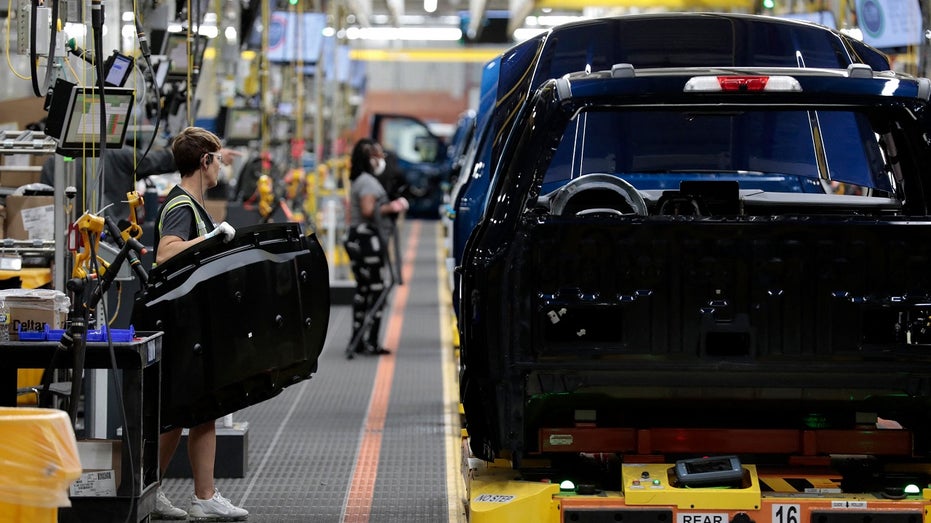 Ford's Rouge Electric Vehicle Center restarted production on the F-150 Lightning last week after a six-week break to expand and retool the plant to triple the manufacturing capacity of the electric pickup truck. Beginning this fall, the Dearborn, Michigan, facility will have the ability to produce 150,000 electric pickups every year.
NO RESERVATIONS: FORD IS CHARGING UP ELECTRIC F-150 LIGHTNING PRODUCTION
Meanwhile, the sale of the company's all-electric models plunged over 18% during the month. Sales of vehicles with internal combustion engines rose 5.7% over the same period.
CALIFORNIA AGENCY INVESTIGATING PRIVACY POLICIES OF AUTO MANUFACTURERS
Ford shares are around 12.5% higher year to date.