As Bitcoin maintains its position around the $29,000 threshold, several market dynamics emerge, offering potential trajectories for the world's leading cryptocurrency.
The sentiment surrounding BTC witnessed a positive shift post the encouraging remarks by renowned investor Cathie Wood. 
Moreover, a recent report by CoinShares highlights an evolving landscape among institutional investors, with a noticeable decrease in the shorting of Bitcoin.
As these factors intertwine, the path ahead for Bitcoin's price becomes intriguing, warranting close observation of key levels in the coming days.
BTC Price Outlook Improved After Cathie Wood's Statement
Bitcoin (BTC) prices are currently being influenced by the upcoming decision from the US Securities and Exchange Commission (SEC) on ARK Invest's Bitcoin ETF application before August 13th. 
According to an interview with Bloomberg, respected investor Cathie Wood anticipates that the SEC may extend the decision deadline.
There is a possibility that the SEC may approve more than one Bitcoin ETF at the same time, as suggested by Wood. 
She explains that if such an approval happens, the offerings are likely to be similar, but differentiated through marketing and messaging.
With various firms, including ARK Invest and BlackRock Inc., seeking approval for their ETFs, the regulatory decisions made will greatly impact the cryptocurrency market's short-term direction.
Institutional Investors Shift Approach as Shorting of Bitcoin Declines: CoinShares Report
According to the most recent fund report from CoinShares, institutional investors have altered their approach toward Bitcoin (BTC). 
The report indicates that there have been no more outflows from short Bitcoin products for the first time in fourteen weeks, which suggests that significant digital asset funds are adopting a different strategy. 
The report features several prominent products, including Grayscale's GBTC fund, Bitwise's 10 Crypto Index Fund, and ProShares ETF (BITO).
In recent times, institutional investors have been selling Bitcoin-related funds, amounting to over $111 million in the past week. 
This is due to regulatory scrutiny, lawsuits against industry players, and changing market dynamics. 
However, some altcoins such as Solana, Ripple (XRP), and Litecoin (LTC) are gaining institutional interest despite the circumstances. 
Interestingly, BTC regained positive momentum on Tuesday, possibly due to this report. Short positions have also been dropped temporarily.
Bitcoin Price Prediction 
The price of Bitcoin is facing obstacles as it attempts to surpass $29,500. If the support at $28,800 is not maintained, there could be negative consequences.
There is a noticeable bearish trend line forming around $29,100, which is making it difficult for Bitcoin to break through the $29,200 resistance. 
Bitcoin's immediate resistance is currently near $29,100, with additional resistance at $29,400 and $29,500 levels. It is currently trading below the 100 hourly Simple Moving Average.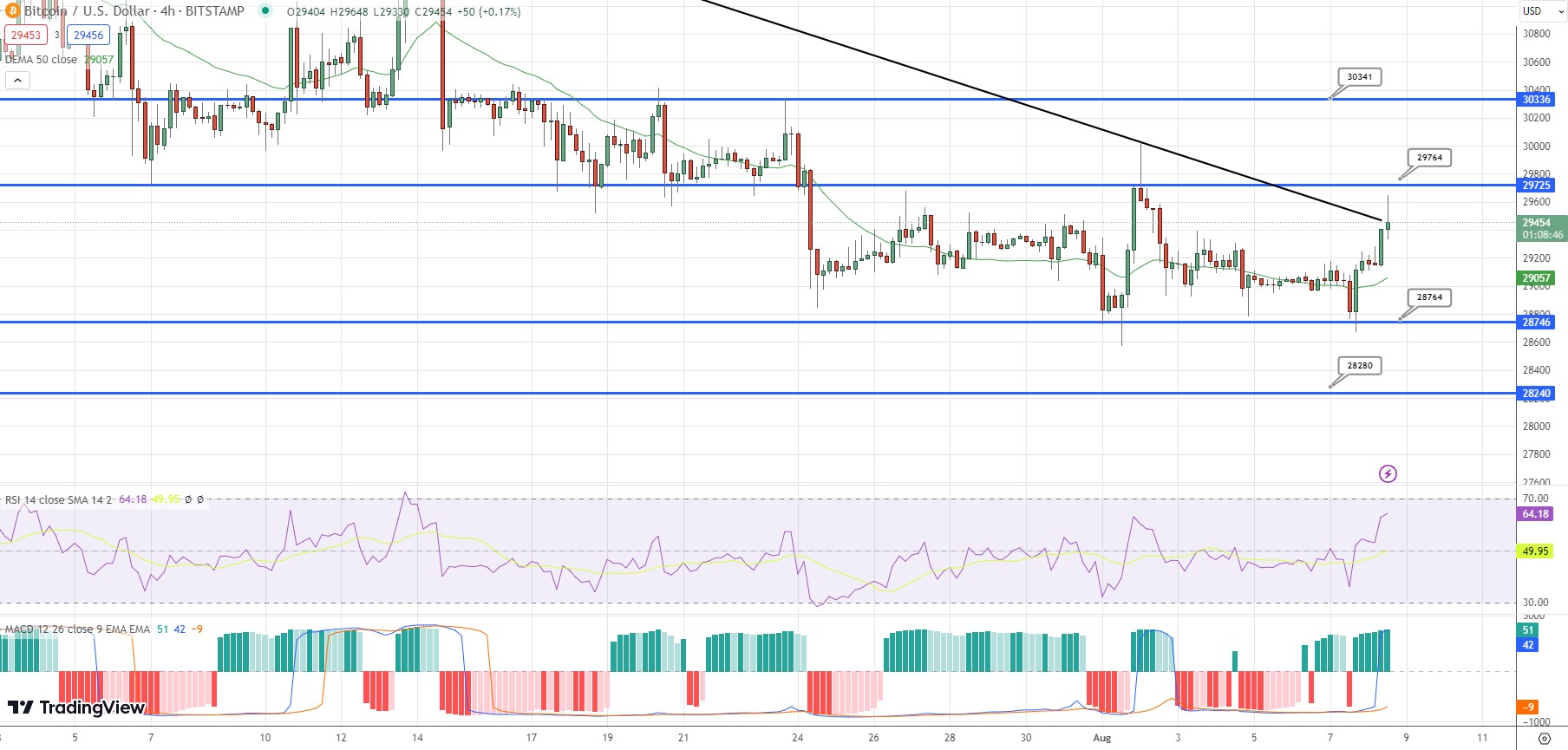 If the price surpasses $29,750, it could indicate an upward movement. However, if it fails, the value may drop towards $29,000 and potentially $28,800 or even $28,400.
Top 15 Cryptocurrencies to Watch in 2023
Get ahead of the game and stay up-to-date with the latest ICO projects and alternative cryptocurrencies. 
Our collection of the top 15 digital assets to watch in 2023 has been carefully selected by a team of industry experts from Industry Talk and Cryptonews.
You'll receive professional guidance and valuable information to help you navigate the constantly evolving world of cryptocurrency. 
Discover the full potential of these digital assets and keep yourself informed.
Find The Best Price to Buy/Sell Cryptocurrency

Disclaimer: Cryptocurrency projects endorsed in this article are not the financial advice of the publishing author or publication – cryptocurrencies are highly volatile investments with considerable risk, always do your own research.