Launched on Uniswap decentralized exchange yesterday, 'Bitcoin on Ethereum' coin BTC20 is proving an excellent advert for staking, with 54% of tokens now deposited into the smart contract. 
At the time of writing, $3,303,345 has been staked at a current annual percentage yield of 79.47%, according to the latest BTC20 website real-time dashboard data. 
BTC20 continues to hold its presale price of $1 and is expected to steadily appreciate in price as yield seekers buy the coin to stake. 
However, the team announced yesterday that it had started a buyback program using funds raised in the presale. So far, $70k has been bought.
The BTC20 price is trading at around $0.94, according to data on DEXTools.
The design of the BTC20 token mirrors the emission schedule of Bitcoin since 2011, so currently, 50 BTC20 are minted at a  block production rate of one every 10 minutes.
Stakers are sitting on a valuable income stream by having a claim on the staking pool in proportion to the number of coins they have deposited into it.
When BTC20 was listed yesterday, it spiked to $2.6 as whales added liquidity to the BTC20/WETH trading pair. But it is not just whales who are adding liquidity.
On the Uniswap V2 exchange, liquidity providers earn 0.3% of the value of each transaction. The BTC20 team created the trading pool on V2, but community members have now also created a V3 pool (BTC20/SDEX), where the pool fee for LPs is 1%.
The combined liquidity on Uniswap V2 and V3 now stands at an impressive $332k. On V2, 87% of the $153k liquidity in the contract is locked for 12 months.
For more on how to provide liquidity for BTC20 on Uniswap, visit the guide on the token website.
Easy-to-Use 'Buy and Stake' Function Coming Next Week
BTC20 staking began on Wednesday and was a great success as investors rushed to access the generous annual percentage yield.
Stakers must lock up their tokens for a minimum period of seven days.
With more buyers entering the market to lock in the tasty yield, the team intends to introduce a 'buy and stake' button to streamline the process of buying and staking.
Tokens can be staked for an indefinite period of time. Yield accrues dynamically every 10 minutes. 
There is no need to set the time you wish to stake in advance. Instead, simply withdraw your tokens when you want to end staking to claim your rewards.


The BTC20 project has a DEXTools reliability score of 99 out of 99 and no warnings arising from its smart contract audit. Also, the contract has been renounced, which means that developers cannot, for example, mint more coins at a later date.
Buyers will also be pleased to know that there is no blacklist function in the smart contract. Blacklists can be used to stop specific addresses from trading a token.
Why BTC20 Price Will Surge as Inflation Slows, Fed Pauses and Halving Approaches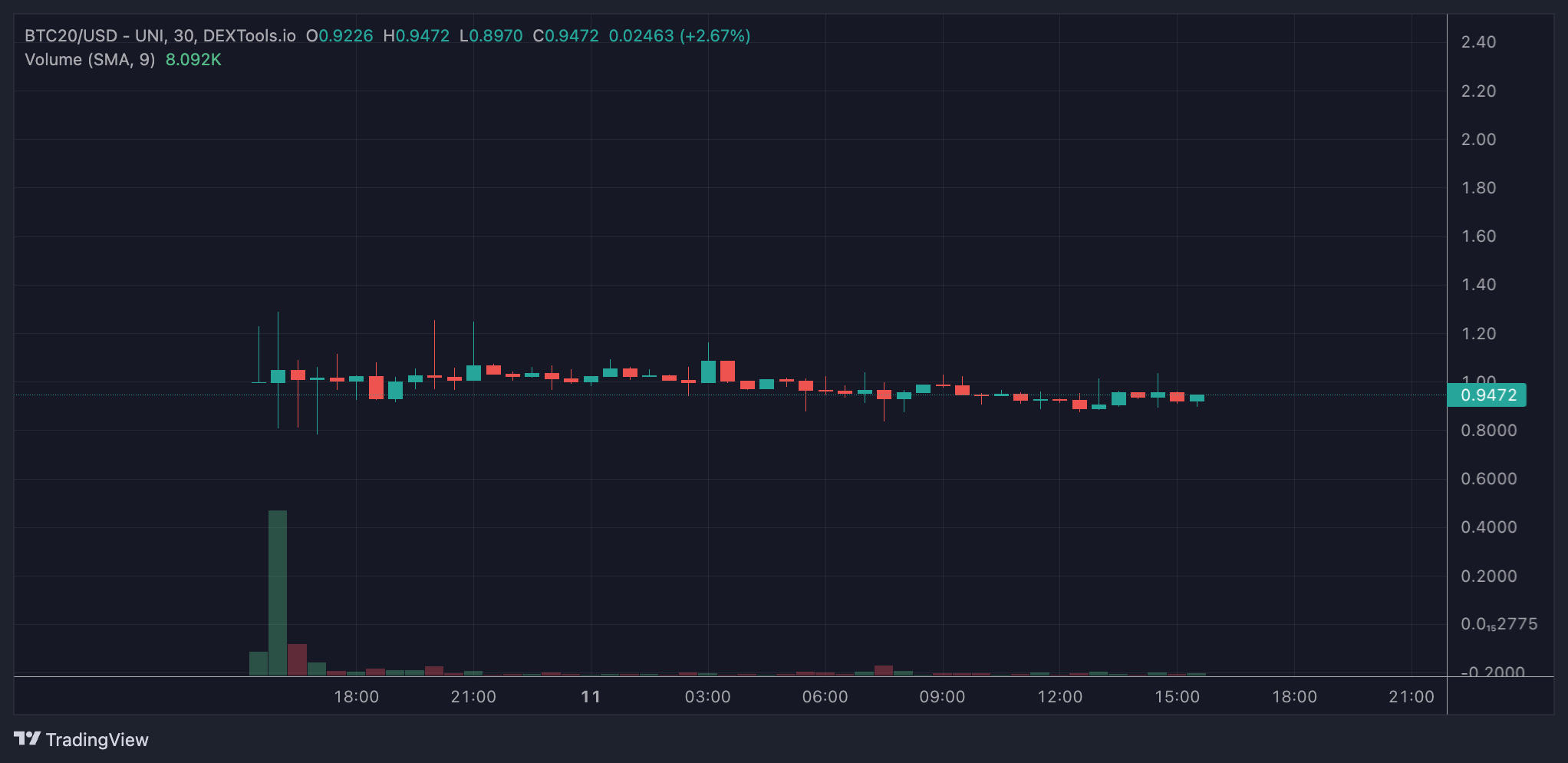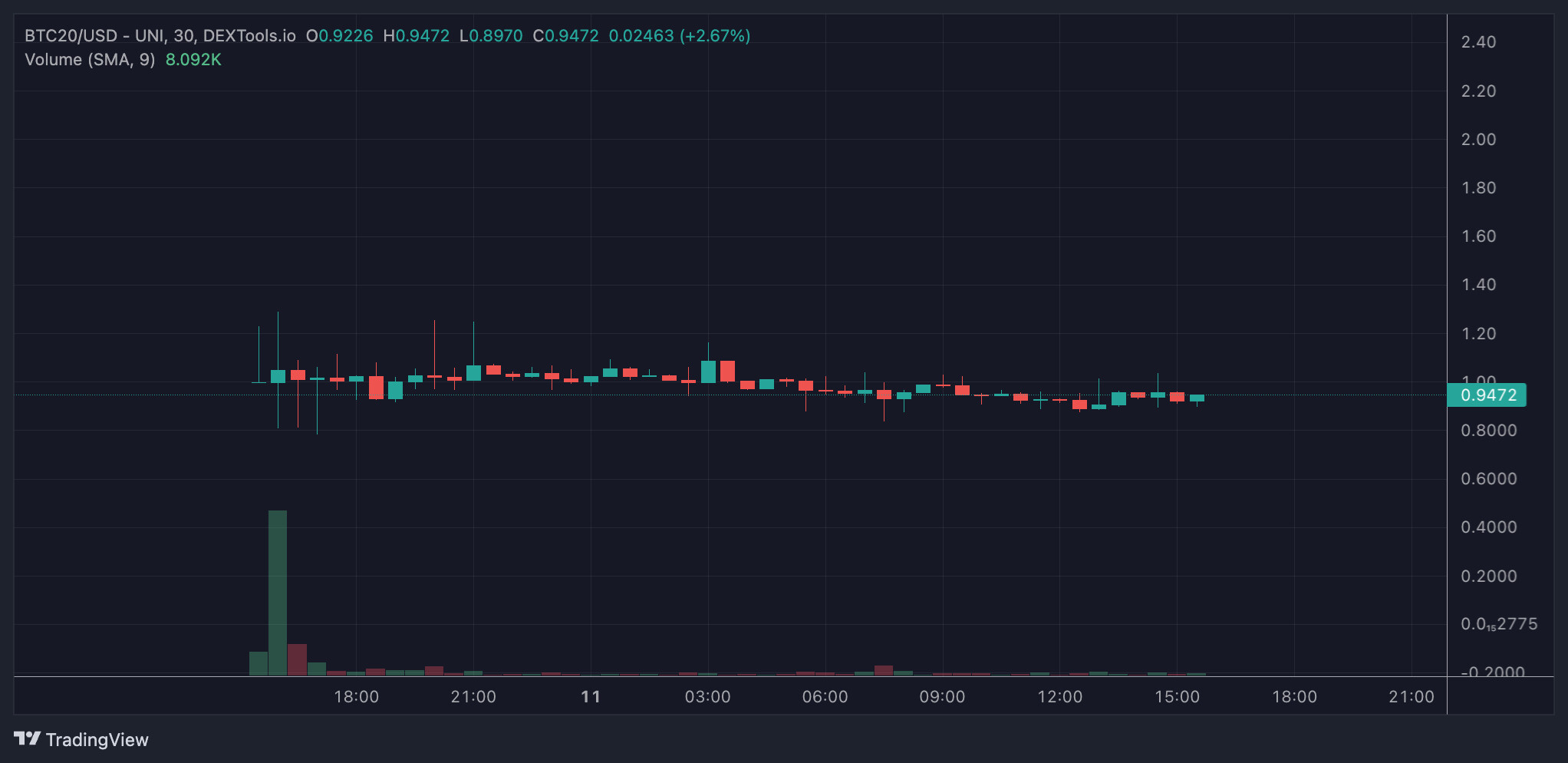 BTC20 is currently priced at $0.96, at a slight discount to the presale price. However, token holders are likely to be beneficiaries when the price of Bitcoin starts to rise.
Supportively for the Bitcoin price, the latest US Consumer Price Inflation data for July was 3.2%, as the rate continues to fall back toward the US Federal Reserve's target rate of 2%.
As a greener and more efficient version of Bitcoin that runs on the Ethereum blockchain and generates a yield, BTC20 is in pole position to gain as Bitcoin's price pushes higher.
Falling inflation means less pressure on the Fed to increase interest rates, and that's good news for risk assets like Bitcoin and, by extension, BTC20. 
In addition, as the Bitcoin block reward halving in April 2024 draws closer, based on past performance, Bitcoin is due for a new bull run as the minting of new coins slows.
BTC20 Price Stability Sets Platform for Future Advance
Because the BTC20 token provides a compelling passive income opportunity through its staking and liquidity provision options, it will continue to support buoyant price action.
Trading volume in the Uniswap V2 market is $2 million, and the market cap is close to $20 million. Meanwhile, the trading volume on Uniswap V3 is $284k.
Price stability in crypto is a rare thing, with the exception of stablecoins pegged to a non-crypto asset such as a fiat currency or gold.
The strong foundation the price has established comes barely 24 hours after trading began, creating the conditions for attracting market participants with lower risk tolerance.
However, price volatility is how gains are made. For BTC20 the direction of that volatility is likely to be positive, following the Bitcoin price's coming upward trajectory.
Over the coming days, the bullish scenario outlined above for Bitcoin will inject momentum into the BTC20 trading pairs. There couldn't be a better time to buy.