Arm Holdings, the chip designer owned by SoftBank, is holding its initial public offering (IPO) this week and is set to debut on Thursday in what will be the biggest IPO in New York since 2021.
Arm, which is headquartered in Cambridge, England, designs semiconductors and software that powers them. It specializes in designing central processing units (CPUs), graphics processing units (GPUs), and microprocessors. Processors designed by Arm are licensed and used in a wide variety of devices ranging from desktop computers to smartphones and supercomputers, as well as data servers and even cars.
Arm has seen strong demand for its IPO and is looking to raise approximately $5 billion in New York, which will be the largest IPO since Rivian in 2021. 
The company targeted a valuation of at least $52 billion with shares trading in a range between $47 and $51 per share. Reuters reported that the IPO's oversubscription could push that valuation to $54.5 billion – the top of its indicated range – if the company successfully asks investors to value it higher. As of Tuesday, Arm's IPO was reportedly oversubscribed by a factor of 10.
SOFTBANK'S ARM TARGETS $52B VALUATION IN 2023'S BIGGEST IPO
Several notable companies are participating as investors in the IPO, including major Arm clients such as Apple, Nvidia, Google's parent company Alphabet, Advanced Micro Devices (AMD), Intel and Samsung.
Taiwan Semiconductor Manufacturing Corporation (TSMC), the world's largest contract chipmaker, said Tuesday that it will invest up to $100 million in Arm's IPO.
TSMC Chairman Mark Liu said last week that "Arm is an important element of our ecosystem, our technology and our customers' ecosystem. We want it to be successful, we want it to be healthy. That's the bottom line."
Ticker
Security
Last
Change
Change %
AAPL
APPLE INC.
175.11
-1.19
-0.67%
NVDA
NVIDIA CORP.
453.99
+5.29
+1.18%
TSM
TAIWAN SEMICONDUCTOR MANUFACTURING CO. LTD.
91.13
+0.66
+0.73%
AMD
ADVANCED MICRO DEVICES INC.
106.60
+1.29
+1.22%
INTC
INTEL CORP.
38.62
-0.24
-0.63%
GOOGL
ALPHABET INC.
134.88
-0.47
-0.34%
CHINA RISKS SHOULD GET DISCLOSED BY LARGE US COMPANIES, SAYS FORMER SEC CHAIR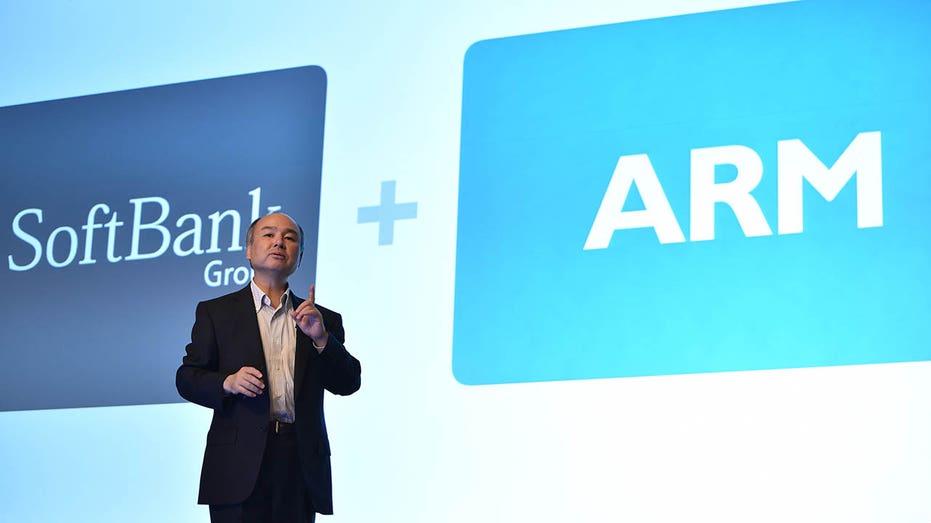 Arm licenses its products to Arm China, which in turn sublicenses that intellectual property to its customers in the People's Republic of China as the exclusive distributor of Arm licenses in the country.
In a regulatory filing with the Securities and Exchange Commission (SEC), Arm noted that in its most recent fiscal year ending on March 31, 2023, approximately 24% of its total revenue was attributable to its relationship with Arm China. In the two prior years, Arm derived 18% of its total revenue from Arm China in the 2022 fiscal year and 20% in 2021.
The company recorded $2.68 billion in revenue during its last fiscal year with $524 million in profit.
GET FOX BUSINESS ON THE GO BY CLICKING HERE
Arm's IPO will price on Wednesday before it starts trading Thursday on the Nasdaq Global Select Market under the symbol "ARM."
Arm is owned by SoftBank Group, a Japan-based multinational conglomerate. SoftBank wants to retain ownership of approximately 90.6% of Arm's ordinary shares after the IPO closes and is not going to receive any proceeds from the offering.
FOX Business' Joe Toppe and Reuters contributed to this report.