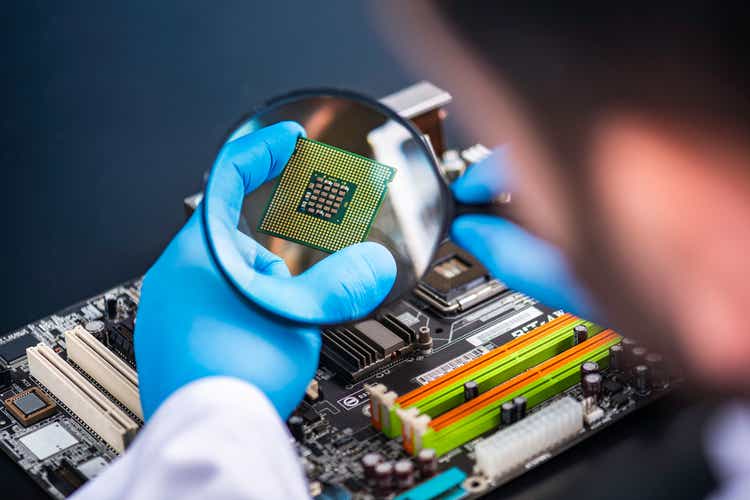 Semiconductor shares have been within the highlight at B. Riley, Wednesday, as analysts Craig Ellis and Michael Mani took their axes to the scores and value targets on greater than a dozen chip and chip-equipment makers.
In a analysis report, Ellis and Mani mentioned the strikes mirror rising considerations about components corresponding to a lower in product demand and rising prices which might be anticipated to proceed by this 12 months and into 2023. Moreover, the pair mentioned broader financial points are having an impression on the chip sector as nicely.
"Additional surging power and meals costs, triggering record-low June U.S. shopper sentiment, intensifies [the risk of] digital product demand destruction," Ellis and Mani mentioned. The analysts added that such larger financial points current a problem to "what we imagine is powerful strategic and working execution" amongst many main chip firms.
As regards to the businesses themselves, Ellis and Mani made the next revisions:
They minimize their scores on Marvell Expertise (NASDAQ:MRVL), Semtech (NASDAQ:SMTC), Lam Analysis (NASDAQ:LRCX), Camtek (CAMT), Ichor Holdings (ICHR), Alpha and Omega Semiconductor (AOSL), Indie Semiconductor (INDI) and Transphorm (TGAN) to impartial from purchase. Ellis and Important additionally lowered their value goal on Marvell (MRVL) to $63 a share from $75, minimize Semtech's (SMTC) goal value to $65 a share type $87, took down Lam Analysis's outlook (LRCX) to $525 a share from $635, lowered Camtek's (CAMT) value goal to $29 a share from $35, dropped Ichor Holdings (ICHR) to a goal value of $30 a share from $37, lowered Alpha and Omega (AOSL) to $42 a share from $62, minimize their value goal on Indie (INDI) to $8 a share from $9, and trimmed Transphorm's (TGAN) value goal to $6.50 a share from $9.
Moreover, Ellis and Mani minimize their value goal on Microchip Expertise (MCHP) to $78 a share from $85, lowered FormFactor's (NASDAQ:FORM) outlook to $48 a share from $55, minimize SkyWorks Options (SWKS) to $110 a share from $125, diminished the worth goal on Axcelis Applied sciences (ACLS) to $80 a share from $98, minimize Kulicke and Soffa Industries' (KLIC) goal value to $50 a share from $59, lowered Identiv's (INDI) value goal to $8 a share from $9 and took completed Sequans Communications (SQNS) value goal to $5 a share from $6.
Among the many firms that Ellis and Mani assessed, Indie Semiconductor (INDI) Chief Government Donald McClymont mentioned in an interview on CNBC, Wednesday, that his firm is on track to become profitable by next year.